I felt a huge sense of relief when thankfully, my new job offer at tails.com was re-confirmed a few weeks before I was due to start. The thought of starting a new job entirely remotely however, was still a little daunting. How would my day to day look as a new starter and of course, would I get to meet all the office dogs on a video conference?

Luckily for me, tails.com have made me feel so welcome in such a short space of time, despite the distance! This is how I've started to settle in..

The Business Side
Tails.com have an 'InDogtion', their induction for all new starters, which is normally of course based in the office, but has now been handily adapted for Zoom! It's been so interesting to discover more about the different departments that make up tails.com. This has ranged from sessions on dog nutrition, a remote tour of the factory, learning more about different breeds of dogs and much more.

People have really gone out of their way to help me with any question, no matter how small or seemingly insignificant! My team has been such a rock and offered me plenty of support to help me get to grips with my role.

Getting a 'Welcome to the Pack' gift bag in the post which included a tails.com hoodie, mug and notebook was a lovely touch and really made me feel part of the team. Everyone at tails.com has also been so aware of everyone's working situations at home and sent me a laptop, desktop, keyboard, mouse and even a proper desk chair to set me up, which was hugely appreciated.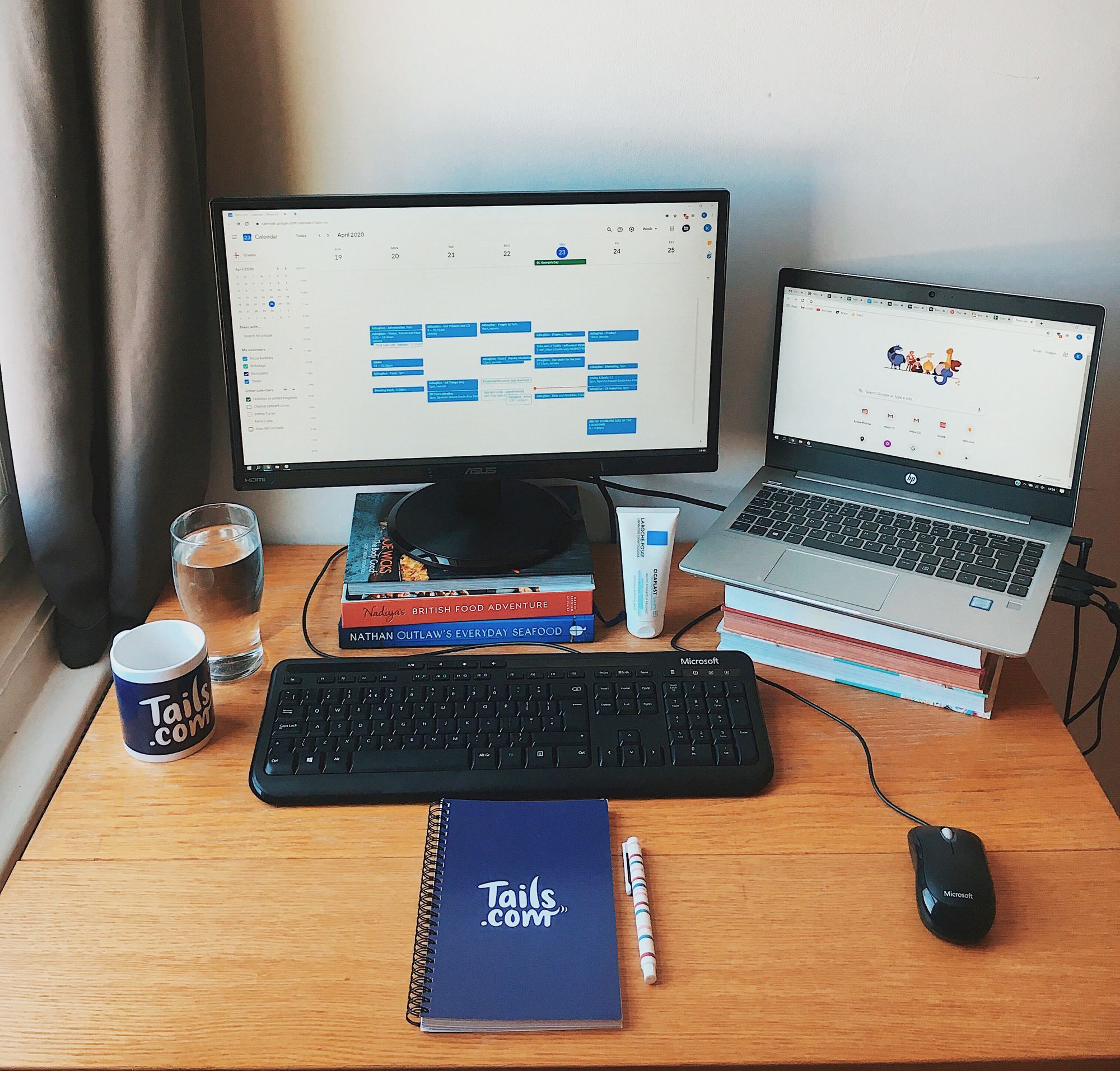 Tails.com currently has over 200 employees so at first, I'll be honest, it was really overwhelming to get to grips with. However, video calls have been so useful for putting faces to names! Having a few 'after work' drinks with colleagues has also been a great way to get to know people on more of a one to one basis.

The Social Side
Tails.com is made up of a really outgoing, chatty and positive bunch of people! This was so noticeable when I came into the office (pre-lockdown) for my interviews, and I am happy to report that even remotely, this has really shone through. The support that everyone has been offering to one another has been so admirable and crucial in this tricky time.

The communication platform 'Slack' has been incredible for team integration too! I had never used it prior to joining but it's an absolute hub of activity. It's the equivalent of making yourself a cuppa in the kitchen and having a chat with people whilst you're there, just virtually! There are numerous different channels that you can join - I was delighted to discover that there was also one purely dedicated to people's love of cats! Who says you can't be a dog AND a cat person... It's honestly been so fabulous to meet everyone virtually and this way we've found plenty of common interests to chat about.

Virtual work socials have also been a blast - in my very first week, we had a group Netflix film night which was a great way to chat all together about how fantastic (or awful..) the film was! Pub quizzes have also been hugely popular and have encouraged everyone to get into teams and occasionally whip out their best fancy dress!

If you're contemplating applying for a role at tails.com, I would just say please don't be put off by the prospect of starting and working remotely. The onboarding experience for me so far has been smooth sailing, and that's definitely all credit to the wonderful people who work for tails.com.