When we first planned our tails.com Pride week for 2021, we scheduled it in September to tie in with London's Pride parade - but when the parade was cancelled, it was an easy call to stick to the plan and continue with our own Pride celebrations regardless.
Celebrating Pride shouldn't be about paying lip service to a specific date in the calendar. As a member of both the Facilities team and the queer community, it was really important to me that, when planning our Pride week, it should be a chance for the team to have fun together. We wanted it to be a way to help LGBTQ+ team members feel recognised, celebrated and able to bring their whole selves to work, as well as providing a time for everyone to explore and enjoy LGBTQ+ culture.
So, this week we've been listening to music by LGBTQ+ artists in the office, sharing book and film recommendations, and highlighting charities and notable people doing incredible work for equality and acceptance, much like the post below. We've also had decorations, snacks, and pride-themed activities both in the office and online for folks working remotely, giving each and every member of the pack a chance to take part.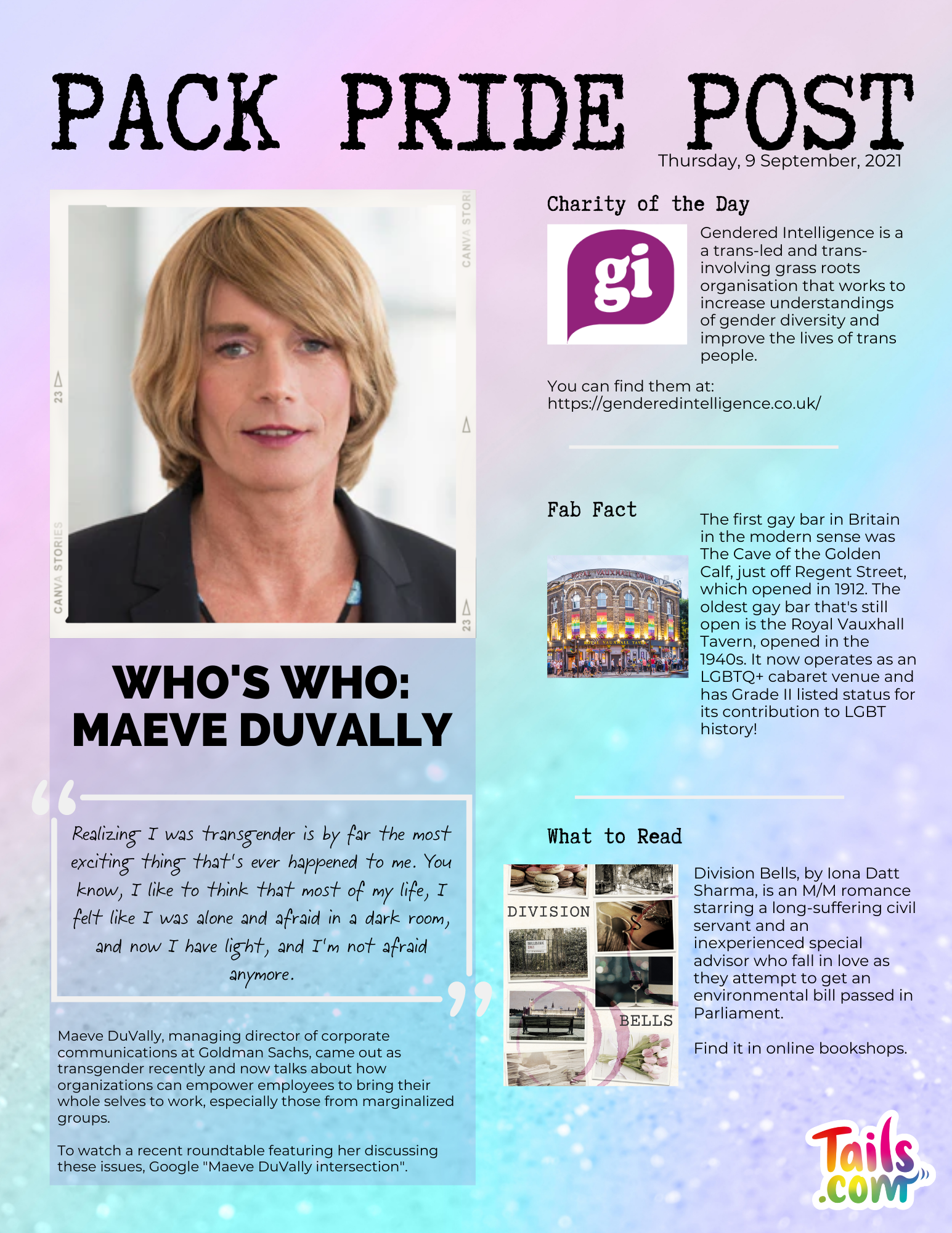 All that said, the things that matter on Pride week matter all year around. Working at tails.com, I've never felt that I have to be afraid of sharing who I am. There are LGBTQ+ folks in all areas of the business, and the team culture is open and supportive. Still, our Diversity & Inclusion group works to make improvements, seeking out and listening to feedback from the team who are supported to make their own innovations too - most notably a private LGBTQ+ Slack channel, started by one of our pack members.
Being in this group has been such a joy. It provides a chance to get to know each other, to share advice, support and experiences, and to discuss ways that life at tails.com could be improved for members of the LGBTQ+ community. The fact that it's private means that team members who aren't fully out, or who are hesitant to share something that can be very personal, can feel comfortable in a smaller group. Plus, the presence of the group signals to LGBTQ+ new starters that there's a place for them at tails.com, and gives them a platform to test the waters - even in this supposedly enlightened time, not every workplace is guaranteed to be equally welcoming.
And ultimately that's the goal, both during Pride week and every day - to actively embrace and promote differences to create a Pack where everyone is welcome.