COVID-19 has brought many challenges to so many people and, currently, a fundamental shift to how everyone lives their lives.  I'm so thankful for the purpose that tails.com gives me whilst we work on how to deliver what our customers and their hungry pups need in these times. I was also searching for an opportunity to raise some money for the heroes on the frontline, as well as scratching the itch of pushing myself in a sporting challenge as my previously booked cycle, running and swimming events calendar go from 'overloaded' to 'delayed until 2021'.  After a glass or two of wine whilst scrolling through Instagram one evening, I saw that Mark Beaumount, the current world record holder for circumnavigating the world in 80 days on a bike, was organising a ride for 80 riders, to cycle 240 miles at home, which would mean together we would cycle the 'World in A Day', raising money for NHS Charities Together.   Sounded like something, fuelled by wine-induced confidence, that I had to take part in!
As an enthusiastic yet amateur cyclist, and a turbo novice, 240 miles would be the double my longest ever ride and surpass my current record of 1hr 55 mins on a turbo by a long, long way!
The challenge started at 4am on 30th April as bleary-eyed, I turned on Zwift (an indoor group riding cycle app) and headed to the flattest route I could find.  I was aiming to finish before the 8pm clap for the carers which meant I needed to average 15mph, including breaks, for 16 hours. By my team catch up call at 8.30am, I'd made it to 85miles and was feeling pretty good.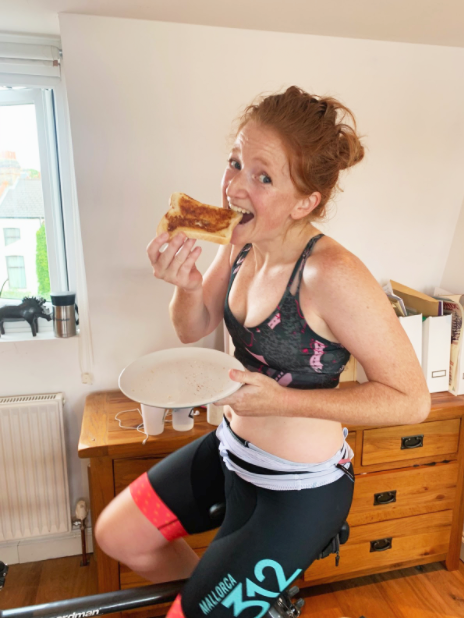 By 1pm, I was still ticking off the miles at a good pace but everything was starting to hurt: ankles, knees, lower back, hamstrings and the inevitable discomfort of sitting on a saddle for 9 hours straight! The beauty of a turbo is that you don't have to concentrate like you do outside and so caught up on podcasts, chatted with the other 79 riders on zoom and even managed a work call (no video for this one!).  By 2pm my strategy of taking a 15min break every 40 miles was out the window as the thought of getting off the bike and back on again felt too daunting. Instead, I went for the potentially ill-advised strategy of just keeping pedalling for as long as I could.  At 4.34pm, I crossed the finish line (after another ill-advised 5-mile 'sprint' to the end that meant the finishing photos were unpublishable).
12hours 34mins, 240miles and £1,760 raised for NHS Charities Together, it was a unique day, 'pawsing' for an incredible cause.
You can donate to Mel's efforts here.